Swingers | Youth Beginner | Youth Int./Adv. | Junior League 
Interested in Marinwood Tennis Camp? 
We are pleased to announce that our Marinwood Tennis program will be taking place this summer, though with some new requirements. Major changes to our Tennis Camps include: participants must enroll for a 3-week session; participants may not be concurrently enrolled in any other group or camp activities during those 3 weeks (i.e. cannot also be attending Marinwood Summer Day Camp the same weeks); participants must have their temperature checked and answer intake questions at the start of camp each day; participants must be checked in with a parent present each morning; participants must agree to maintain 6 feet of physical distance from each other as much as possible during camp. Please see below for a more complete list of precautions we are taking this summer. Enroll Here 
In consideration of the Marin County Health guidelines, tennis students will not be allowed to enroll in tennis if they are also attending a day camp program at the same time.
Tennis Camp Sessions and Levels:
Session 1: $328.00- 3-week session, Jr. Int./Adv. 10:00AM-11:30AM, M-F (price reflects no camp 7/3)
Session 2: $328.50- 3-week session, Jr. Beginner 10:00AM-11:30AM, M-F
Session 3: $234.00- 3-week session, Swingers 10:00AM-11:00AM, M-F
Dates:
Session 1: June 15-July 2 (no camp Friday, July 3)
Session 2: July 6-24
Session 3: July 27-August 14
Tennis - Swingers:  (5-12 yrs); 
These little swingers learn the fundamentals of tennis. The basic strokes and court sense will be introduced through fun drills and games. LOCATION:  Marinwood Courts. INSTRUCTOR: Jerry Mehciz.
Tennis - Junior Beginner:  (8-14yrs); 
Tennis is a game, so let's have fun learning forehands, backhands, volleys, smashes, and serving in an exciting, progressive program. LOCATION:  Marinwood Courts. INSTRUCTOR:  Jerry Mehciz.
Tennis - Youth Intermediate/Advanced: 
For the players who have graduated from beginner to an intermediate/advanced level. Consistency, accuracy, and power will be emphasized through fun drills and match play. LOCATION:  Marinwood Courts. INSTRUCTOR:  Jerry Mehciz.
Marinwood Junior Tennis League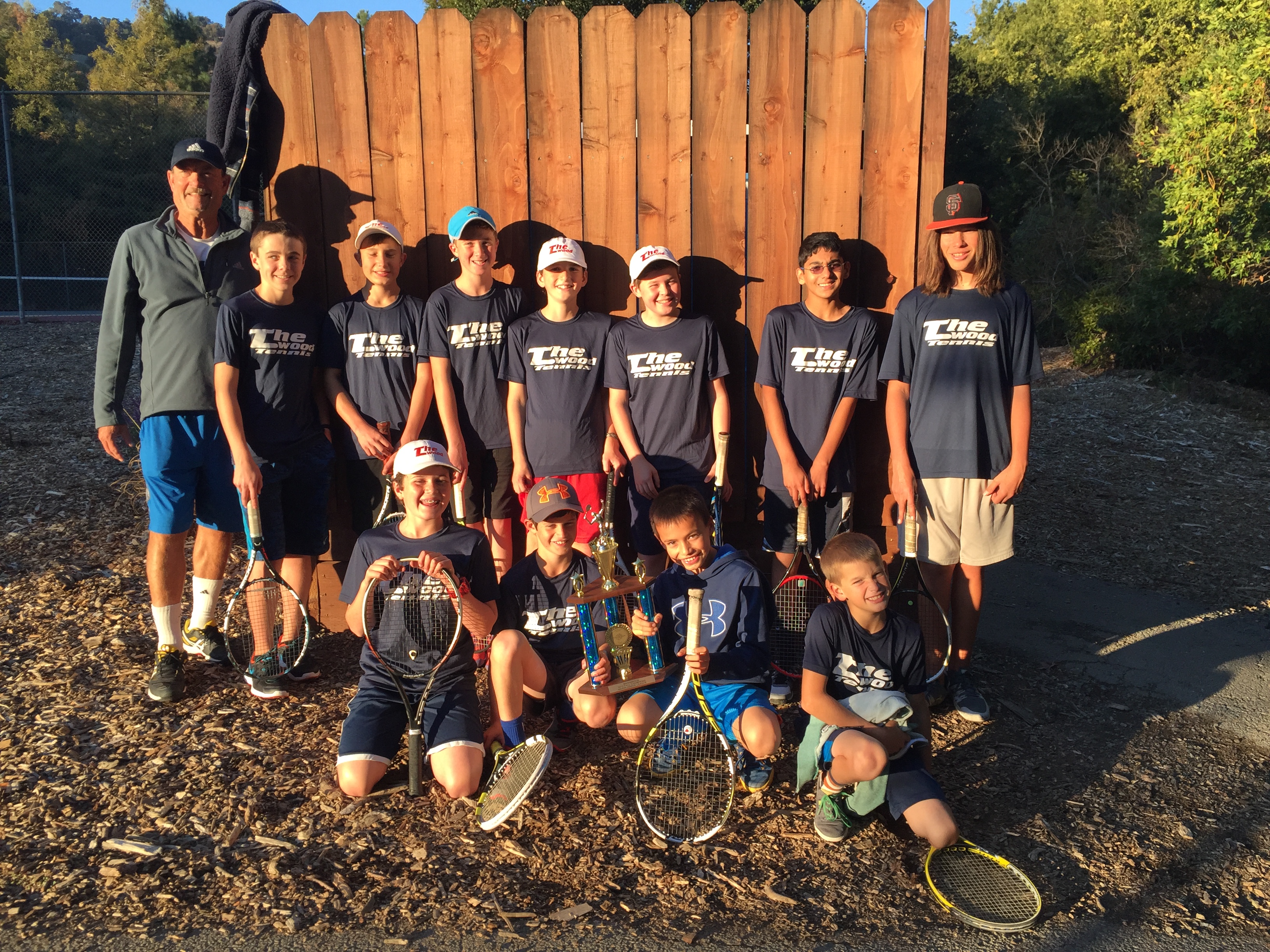 Marin Junior League Champs (fall '15); Coach Jerry & Marinwood's Junior League show off their trophy.

Junior League Matches: Ages 9-14 (4th-8th grades)
This is an  introduction to competitive tennis including practices and matches. Players must know how to play the game. Match season begins in March and ends in May. For questions, call Jerry at 707-235-0973. Parents are responsible for getting their players to "away" matches and providing snacks and drinks for "home" matches. Spring League Matches are from 4-6pm usually on Fridays (5-6 matches) at various locations. MUST BE IN PRACTICES TO PLAY MATCHES. See league scheudle: Marin Junior Tennis League 2020 Spring Schedule 
Practices: Mondays & Wednesdays, 4:00-5:30pm at Marinwood Courts
Matches: Check back for fall!
Tennis Youth Bonus Day Classes:  Mondays (1st-3rd grade) / (3rd-5th grade)
For the busy tennis youth who can only come once a week; for the Tuesday/Thursday player looking for an additional class; or for the tennis novice wanteing to start slow, these Monday and Wednesday classes are a great bonus offering this fall. All classes will take palce at the Marinwood Courts. 
Schedule: Check back for fall!