The Architect's Studio | Gentle Yoga | Zumba Fitness | Jazzercise | Ballroom Dancing | Photography | Tennis Classes
The Architect's Studio: Design Your Renovation!: Mondays, 7:00-8:30pm
Are you a homeowner dreaming about a renovation project but don't know where to start? Have you always wondered about your home's potential?  Would you like to do as much work yourself before hiring an architect, designer, or contractor? How about professional advice on common renovation pitfalls and missteps? Have you "always wanted to be an architect" and want to use your home as a test? Well, roll up your sleeves and get going on a design with the guidance of a professional who has renovated houses in the Bay Area for twenty years!  Each class will cover an essential step in the renovation process. The "studio" environment will allow for group collaboration and constructive critique on the renovation project YOU create during the course.

4 classes:  April 3, 10, 17, & 24
Fee:  $199/4 classes
Click here to Register
Schedule:
4/3 Class I: Pre-Design - How to get started on your remodel
_ The Design Process: An overview of renovations
_ Background drawings: Tools and prep
_ The Master Plan: Consider the long term
_ Roles: Architect, Designer, Structural Engineer, Contractor?
_ Budget: Tackling the scary bit
_ Permits and Building: The end goal
_ Work for next week? Creating existing plans and ideabook.
4/10 Class II: Schematic Design – Brainstorming
_ Assessment: Where are you starting from?
_ Determining Scope: The big, little, and in-between
_ Charettes? Thinking creatively
_ Design Unity: The bigger picture v. the details
_ Common Mistakes: Avoiding pitfalls
_ Work for next week? Creating schemes A, B, C,…
4/17 Class III: Design Development - Refining a single vision
_ Studio Critique: Reviewing your schemes
_ Refinement: Choosing a direction
_ Design Development: Filling in details
_ Rinse and Repeat: Keeping your options open
_ Behind the Walls: Technical stuff you wish you knew
_ Work for next week? Creating your dream scheme.

4/ 24 Class IV: Construction Docs – Permitting and Building
_ Studio Critique: Reviewing the single vision
_ What's missing? Anticipating next steps
_ Bids: Moving from budget to reality
_ Permitting: How to navigate the system
_ Construction Management: Protecting your vision
_ Resources: Getting what you pay for

Instructor Bio:
Bill Hansell is a licensed architect with his own Marin practice having designed dozens of projects in the Bay Area.  He specializes in home renovations and has remodeled numerous Lucas Valley Eichlers, as well as other mid-century and traditional homes all around the Bay. He holds a Master Of Architecture from the University of Virginia and has taught at UC Berkeley and Academy of Art University. He worked on a variety of projects in Washington, DC, and Los Angeles before moving to San Francisco in 1994 as a designer with SOM on the International Terminal for SFO. 
Gentle Yoga:  Mondays, 2:30-3:30pm; Wednesdays, 1:15-2:15pm (Spring) and 5-6pm (Summer)
This gentle yoga class will be a softer, nurturing, slow-paced, and relaxing practice. Each asana will be taught with the emphasis on safe alignment to help build strength, awareness and flexibility. Simple movements are done with breath encouraging the body and mind to release tension. Gentle yoga is suitable for anyone that has been sedentary, recovering from an illness or surgery or has any physical limitations that prevent them from participating in regular yoga class. Chairs are available. All levels of students are welcome including beginners. Please bring a Yoga mat and a blanket.  INSTRUCTOR:  Lori Margulies, Embrace Yoga San Rafael
Spring Sessions: 
Mondays, 2:30-3:30pm
Session 1:  Feb. 27-April 3; $76/6 weeks
Session 2:  April 17-May 22 (no class 5/15); $64/5 weeks
Wednesdays, 1:15-2:15pm
Session 1:  March 1-April 5; $76/6 weeks
Session 2:  April 19-May 24; $76/6 weeks
Summer Sessions: 
Wednesdays, 5-6pm
Session 3:  June 14-July 26 (no class 7/5); $76/6 weeks
Session 4: Aug. 2-Sept. 6; $76/6 weeks
Drop-ins:  $15
Ballroom Dance:  (Adults & Teens); Tuesdays, 7:15-9:00pm
Prepare for your parties or wedding, adding fun, exercise and new friends with exciting music. Add zest and attitude while learning Rumba, Swings, Tango, Waltz, Cha-Cha, and Texas Two-Step taught by Skip Clippinger and her dance partner, Mario. Vote for your favorite three dances the first week. Enjoy and dance from the very first night. The last night of class is a dance party with refreshments, open to all. Questions? Call Skip at 415-479-2474.  
Times: New & Continuing Students 7:15-8:30 pm
Intermediate-Advanced 8:15-9:45 pm
Sess. 1: Feb. 21- April 4, 2017 (6 classes)
Sess. 2: April 18-May 23, 2017 (6 classes)
Sess. 3: June 13-July 25, 2017 (no class July 4; 6 classes)
Sess. 4: Aug. 1-29 (5 classes)
Fee: $33/single; $62/couple, each session 
Zumba: Mondays, 7:15-8:15pm; Tuesdays, 5:45-6:45pm* 
Founded in 2001, Zumba Fitness is a global lifestyle brand that fuses fitness, entertainment and culture into an exhilarating dance-fitness sensation! Zumba® exercise classes are " fitness-parties " that blend upbeat world rhythms with easy-to-follow choreography, for a total-body workout that feels like a celebration.  INSTRUCTOR:  Chrissy Costello.  Click Here to visit Chrissy's webiste.
Punch Passes sold at class - $100/10 classes
Drop-ins:  $12
To Join:  Just show up to one of the classes and talk to Chrissy (no advance registration required).
[back to top]
Jazzercise:  Mondays & Wednesdays, 6:00-7:00pm
Your instructor looks forward to offering you a safe, fun, effective, full body workout. Regular Jazzercise in a 60 minute workout that offers a warm up followed by a 30-35 minute aerobic section. The end of your workout consists of strength training and stretching for your upper torso, lower body, and abdominals. Classes are ongoing and you can register anytime before a class or online at Jazzercise.com.  
Walk-in price: $20; monthly fee: $60 (see website below for more information)
Register at Jazzercise.com
"Capture the Moment" Photography
The focus of this workshop will be the enjoyment photography brings to the moment. The purpose is to show how everyone can become a better photographer, enjoy the process and share the results. All levels of experience are welcome and all types of photo equipment will permit you to succeed: film cameras, DSLRs, point and shoots, iPhones, iPads, etc. Bring what you have and we'll work together. The class consists of eight two hour workshop sessions. All classes meet at Marinwood Community Center and may travel offsite.  Ages: 12 & Up 
2017 Workshop Dates/Times:
Wed., March 15, 7-8:30pm Introduction and Orientation
Sat., March 18, 9-11:00am McInnes Ponds
Sat., March 25, 9-11:00am Western Marin to Nicasio
Sat., April 1, 9-11:00am Blackstone Canyon
Sat., April 8, 9-12:00pm Point Reyes Station
Wed., April 12, 7-8:30pm Marinwood Community Center
Sat., April 22, 9-11:00am Lucas Valley Road
Sat., April 29, 9-11:00am Golden Gate Bridge
Sat., May 13, 9-11:00am possible make-up class for rainouts
$125/8 classes
Returning Students:  20% off Discount Available (call to enroll)
Register Here

Instructor:
Duncan MacSwain--teacher, photographer, and international tour group leader?has lived in the Marinwood-Lucas Valley community for over 40 years. His photos have been published in books, calendars, magazinges, and promotional materials in 15 countries. He has previously taught photo workshops in the U.C. Berkeley Research Expeditions Program, at the Quadrennial Art and Culture Festival of the Pacific in Palau, and throughout Marin. Duncan is a frequent speaker on the book store circuit, and at various conventions and promotional events throughout Marin and northern California.
MacSwain taught psychology and biology, and was an administrator and athletic coach at Redwood High School for 32 years. He was a Marin Teacher of the Year, a northern California Coach of the Year, and a nominee for National Science Teacher of the Year. He has been organizing and leading international photo tours through Dimensions in Travel, Novato, for over 20 years. His specialties include South America (the Galapagos, Machu Picchu and the Amazon), southeast Asia and micronesia.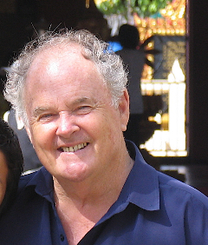 [back to top]
Tennis Classes (see link below):